NEW ARRIVALS are here
....meet the new fur-babies in need of forever homes:
Chico! An good all-American mutt-buddy, truly! A 1 1/2 yr old mostly-lab, Chico loves people and other dogs:
We are so in love with Chico's velvet ears we felt compelled to share this mug-shot, too:
And, Sadie! 2 yr old Lab/Boxer mix. Sadie also loves people and other dogs, and wants a HOME!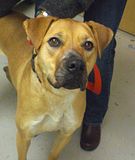 Introducing Lulu...what a STAR pup she is...Great Pyrenees and Aussie lovers- act quick, Lulu is special and she won't last long!! 4 months old, fluffy, and huge: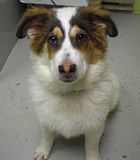 Jake! 3 yr old heeler/border collie mix, in the shepherding universe, Jake is the best of both worlds! Jake likes people and other dogs, and his spots are cute as can be...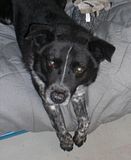 Also still here and in need of homes are Remi (lab mix pup), Brady (boxer), Star (Dachshund mix) and Barney (awesome black terrier).
Hope everyone can come meet the new pups soon- IMHS is open EVERY DAY for adoptions!!
Marta Anderson
Shelter Director
OPEN CHRISTMAS EVE TIL 2pm FOR ADOPTIONS
_________________
Adoption Center Location: 67318 Hwy 285, Pine, CO 80470
(not for postal use)
Map
Mailing Address: P.O. Box 1250, Conifer, CO 80433
Open to the Public *NEW HOURS effective Tues 11/22*
Open 7 days/week 11am to 4pm | Open til 7pm Weds
(Closed on major holidays)
Phone (303) 838-2668
Fax (303) 838-4419
IMHS Website
Find Us On Facebook
Our Blog
IMHS Second Chance Thrift Shop
Visit our 285Bound.com Forum
Here
!
See the view from our Second Chance Thrift Shop on our 285Bound Webcam!