We currently have two cats in our care who would qualify for barn homes. They are terrified of people but may enjoy the company of other animals. If you are able to take either Abby or Minnie and integrate them into your working barn or horse stable and provide a comfortable home for them, we will adopt them to you for FREE. Likewise, if you are a single person with a very quiet, low-stress household (another cat is fine!) and would like to ADOPT either Minnie or Abby as an indoor cat, call us today! 303-838-2668
Abby... Originally dubbed "Tapioca", Abby is now finding refuge in a foster home with a caring person who is working with her on social skills. She needs a permanent home--please spread the word!
Minnie...scared Minnie is still at the shelter and needs to find a home soon: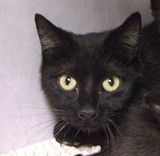 Thanks for spreading the word about Abby and Minnie!
Marta Anderson
Shelter Director
IMHS OPEN EVERY DAY for ADOPTIONS
LIKE us on FACEBOOK!