Press Release
FOR IMMEDIATE RELEASE
Contact: Marta Anderson
Shelter: 303-838-2668
IMHS Mascot "Dog" Promotes Motorcycle Benefit Ride
7th Annual June Motorcycle Ride Helps Homeless Animals
Drivers on 285 at Pine Junction were startled to see a 7-foot costumed dog waving from the back of a motorcycle as it drove from Intermountain Humane Society to Crossroads Pub & Grill on May 24th to promote the Sunday, June 9th Molly-Dharma Run. The motorcycle driver, Dennis Kellams, is part of the annual Molly-Dharma Run which benefits animal shelters, and Crossroads Pub & Grill is a local business sponsor. This year's recipient of funds will be IMHS.
The Molly-Dharma Run was established by Kirk Zimmerman after he met a dog named Molly-Dharma who had been adopted and returned to a shelter four times, until she entered his heart and household for good.
"The Molly-Dharma Run will benefit homeless cats and dogs at IMHS," said Marta Anderson, IMHS Shelter Director, "We thought the mascot 'dog' on the bike was a great representation of the needy animals who will be helped by the kindness of the hundreds of riders in the June 9th run."
Registration fees will support Intermountain Humane Society's work for animals. The first 300 riders to register will receive a ride pin, and the first 200 to arrive at The Platte River Bar & Grill on event day will receive a free breakfast burrito or bagel. Registration for the June 9th event day is $20 for a single rider, $25 for two-up, but there is a $5 discount for pre-registrants thru June 3rd. Online registration is at
http://www.Molly-DharmaRun.org
or through the IMHS.org website. The fun starts at The Platte River Bar & Grill in Littleton and after visiting IMHS and the Crossroads Pub & Grill the run will end at the T-Bird Road House in Wheat Ridge, where Kicked To The Curb Band will play.
Rider Dennis Kellams and IMHS Mascot Dog depart the shelter on a Honda VTX 1800
IMHS Mascot Dog and rider Dennis Kellams head up Mount Evans Blvd. in Pine Junction to the Crossroads Pub & Grill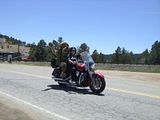 IMHS Mascot Dog and Dennis arrive at the Crossroads Pub & Grill to promote the June 9th Molly-Dharma Run
Intermountain Humane Society is a private, non-profit organization that receives no government funding and relies solely on donations and community support to serve its mission. IMHS is located at 67318 US Hwy 285 S in Pine Junction. For more information on adoption or volunteer opportunities, call 303-838-2668 or visit
http://www.imhs.org
.
What are you waiting for?! Sign up TODAY at
http://www.MollyDharmaRun.org
LIKE us on Facebook!
_________________
Adoption Center Location: 67318 Hwy 285, Pine, CO 80470
(not for postal use)
Map
Mailing Address: P.O. Box 1250, Conifer, CO 80433
Open to the Public *NEW HOURS effective Tues 11/22*
Open 7 days/week 11am to 4pm | Open til 7pm Weds
(Closed on major holidays)
Phone (303) 838-2668
Fax (303) 838-4419
IMHS Website
Find Us On Facebook
Our Blog
IMHS Second Chance Thrift Shop
Visit our 285Bound.com Forum
Here
!
See the view from our Second Chance Thrift Shop on our 285Bound Webcam!