We are very happy to report that 30 animals have found their forever homes this month. THANK YOU to their adopters!
Our wish list for this week are the following items-
Clay Cat Litter
KMR or other high quality Kitten Milk Replacer in powdered form
KITTEN canned food
Thick, Heavy Leashes for our really strong Dogs
Retractable Leashes for Larger Dogs
Our Picture of the Week is Lovey and Shiloh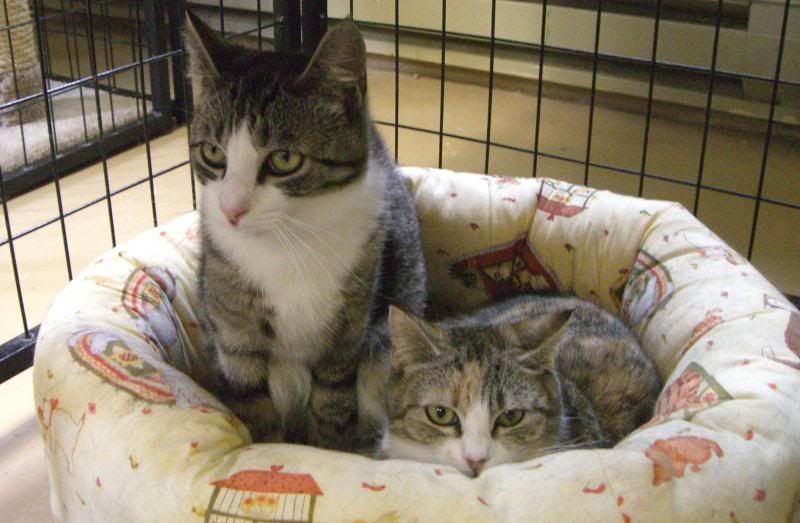 These affectionate siblings are 10 months old and would love to go home together! Lovey (on the left) will help you wake up by laying on your pillow and giving you kitty kisses and hugs. He has to be the center of attention and will loudly vocalize if he is not. Shiloh is a bit more shy and will take a little longer to greet you but warms up quickly and loves to get belly rubs. If you have the space and a REALLY big heart, these two are the kitties for you! They are available for adoption at the shelter which is open every day of the week. Please call for more information.
Don't forget- the shelter takes in empty aluminum beverage cans to recycle for cash. You can drop your cans by anytime!
Thank you for all your support- we couldn't do it without you!
Susan Morrison
Shelter Manager
_________________
Adoption Center Location: 67318 Hwy 285, Pine, CO 80470
(not for postal use)
Map
Mailing Address: P.O. Box 1250, Conifer, CO 80433
Open to the Public *NEW HOURS effective Tues 11/22*
Open 7 days/week 11am to 4pm | Open til 7pm Weds
(Closed on major holidays)
Phone (303) 838-2668
Fax (303) 838-4419
IMHS Website
Find Us On Facebook
Our Blog
IMHS Second Chance Thrift Shop
Visit our 285Bound.com Forum
Here
!
See the view from our Second Chance Thrift Shop on our 285Bound Webcam!