Preview
PostPosted: Sat Jun 01, 2013 6:23 pm Post subject: Wish List 6/1 and Picture of the Week
Great news to report! We ended the month of May with a total of 45 adoptions! Lots of VERY happy dogs and cats. Thanks to our wonderful adopters.
Our wish list this week is a little diverse....and greatly needed.
Baby Food (Gerber etc.) in Chicken or Turkey to help feed the fragile kittens we are caring for.
Canned adult cat food. Friskies Pate style is the best.
Black Oil Sunflower Seed for our bird feeders that entertain the cats looking out the windows.
White copier paper- need to keep plenty on hand for all those future adoption contracts.
Bleach (color safe type) for cleaning and disinfecting daily.
Our picture of the week is of the DYNAMIC DUO- Gideon and Elliott.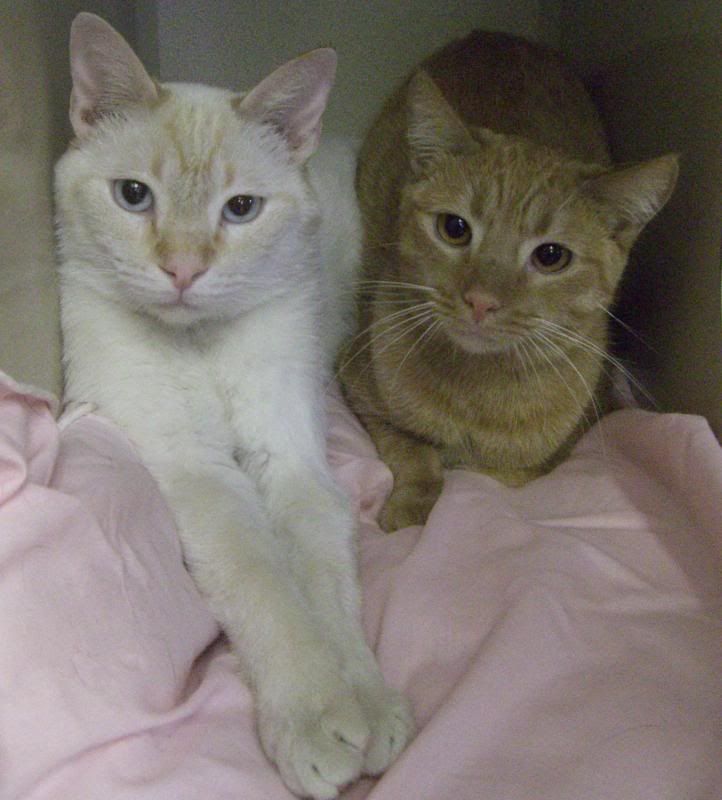 This pair of friends came to IMHS in early April and they are still waiting for their forever home. The orange on Gideon's face is the perfect compliment to Elliott's stunning coat. They can frequently be found curled up close to each other sharing the same ray of sunshine coming through the window. They would love to have visitors come and admire them...and maybe take them home together!
Is that you???
You can visit Gideon and Elliott any day of the week. IMHS is open for adoptions every day from 11am to 4pm with the exception of Wednesday, when we stay open until 7pm.
Don't throw away those used home copier cartridges! You can bring them to IMHS and we will recycle them to help the shelter purchase additional supplies. You can drop them by anytime we are open.
Thanks you for all the support in helping us help the animals!
Susan Morrison
Shelter Manager
_________________
Adoption Center Location: 67318 Hwy 285, Pine, CO 80470
(not for postal use)
Map
Mailing Address: P.O. Box 1250, Conifer, CO 80433
Open to the Public *NEW HOURS effective Tues 11/22*
Open 7 days/week 11am to 4pm | Open til 7pm Weds
(Closed on major holidays)
Phone (303) 838-2668
Fax (303) 838-4419
IMHS Website
Find Us On Facebook
Our Blog
IMHS Second Chance Thrift Shop
Visit our 285Bound.com Forum
Here
!
See the view from our Second Chance Thrift Shop on our 285Bound Webcam!