A few snapshots from the past week, featuring some of the terrific dogs and pups still at IMHS waiting for homes...
Golden Retriever mix Sunny, 7 yrs old, loves people & dogs
New arrival Rajah, 3 yrs old Shepherd mix, great with people & other dogs
Matthew, 1 1/2 - 2 yrs, loves to play with other dogs, great disposition, Irish Wolfhound or Giant Schnauzer mix
Danny, 10 mos old or so, red Labrador Retr x, a big puppy, smart and responsive, submissive and sweet with people and other dogs
Puck, 10 wk old cattle dog mix puppy, SMART!, will make a great agility dog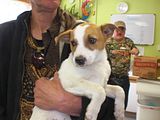 Having trouble getting to the shelter? NO problem!--we're
open every day
(11am - 4pm) and have evening hours til 7pm on Wednesdays! If you can only manage mornings, give us a call and we're happy to accomodate your visit prior to 11am so you can meet the animals available for adoption.
All IMHS animals are spayed/neutered, microchipped, vaccinated & given de-wormer prior to adoption. Most animals are available to go home at the time of adoption, and NOTHING makes us happier than sending animals into their forever homes! Come see us when you can, or visit IMHS.org or call 303-838-2668 for more information
Marta Anderson
Shelter Director
OPEN 7 days/wk for ADOPTIONS and RAFFLE TICKET SALES
_________________
Adoption Center Location: 67318 Hwy 285, Pine, CO 80470
(not for postal use)
Map
Mailing Address: P.O. Box 1250, Conifer, CO 80433
Open to the Public *NEW HOURS effective Tues 11/22*
Open 7 days/week 11am to 4pm | Open til 7pm Weds
(Closed on major holidays)
Phone (303) 838-2668
Fax (303) 838-4419
IMHS Website
Find Us On Facebook
Our Blog
IMHS Second Chance Thrift Shop
Visit our 285Bound.com Forum
Here
!
See the view from our Second Chance Thrift Shop on our 285Bound Webcam!