MOTIVATIONAL MONDAY- from the desk of Mike Ferry:
"1. "Life chips away at all of us. Some play the victim … some choose to be a survivor … and then there are those that choose to conquer."
2. "Sometimes we take 'no' badly because we think it defines the future. The future is not defined by rejection, it's defined by what you do after you get rejected."
3. *********
Always strive for excellence in life and never make room for mediocrity. Set your standards high and your effort will be rewarded."
4. *********"Good things never come from comfort zones. Success comes from being uncomfortable."
5. "The universe doesn't give you what you ask for with your thoughts … it gives you what you demand with your actions." – Dr. Steve Maraboli
6. ************
****"Great things in business are never done by one person. They are done by a team of great people." – Steve Jobs
It's interesting how many great quotes Steve Jobs passed on to all of us. If I just gave you Steve Jobs quotes for the next couple of months, we would have nothing but great positive thoughts to work on. Keep looking for great positive thoughts.
Mike"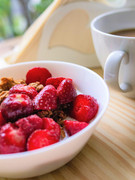 _________________
Kathryn L. Carlson, CRS -Broker/Owner
Homes & Lifestyles of Colorado
Real Estate Brokerage Company
____________________________
YOUR HOME TEAM
O: (303) 816-9199 C: (720) 226-8199
Your Home Info:
http://www.KathrynCarlsonHomes.com
-SELLING – BUYING – STAGING – SHOWING – NEGOTIATING- CLOSING!
~ Awarded Multiple (6) Years by 5280 Denver Magazine
~ 20+Years' Experience in Real Estate
285 CORRIDOR SELLING DISCOUNT: 3.9% Total, Not 7%.