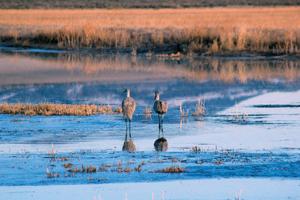 (Photo by Emily Clingman/The Flume)
Each year in March, 30,000 sandhill cranes migrate from New Mexico to the north, stopping in the San Luis Valley for a few weeks to fuel up on alfalfa and barley at the Monte Vista National Wildlife Refuge.Wildlife watchers can also see the birds at the Alamosa National Wildlife Refuge located southeast of the town of Alamosa, and at the Rio Grande, Higel and Russell Lakes state wildlife areas.
Only a two to three hour drive from Park County, the migration spectacle is quite a sight. If you miss the spring migration, you can catch the cranes coming back through the area in October.
http://www.theflume.com/free_content/ar ... 1f10c.html