We are full to capacity on dogs! Please spread the word about these wonderful guys in need of homes--here are this weekend's new arrivals:
Yoda! 1 yr old neutered male pug, adorable and sweet with people of all ages: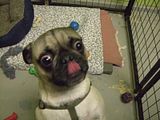 Pretzel! 9 months old St. Francis terrier mix, one gorgeous blue eye, loves people and other dogs: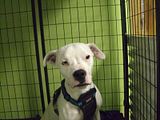 Bobo! 6 yr old black Labrador Retriever, loves people and other dogs:
Dutchess! 1 1/2 yr old St. Francis Terrier, GREAT DOG, loves people and other dogs:
Liza! 5 yr old Siberian husky, loves people and other dogs:
We also still have HERSHEY the chocolate Labrador Retriever (AKC registered), LADY the border collie, ROSITA the Chihuahua, HOSS and SCAMP the wire-haired dachshunds, and GABBY the boxer mix.
Come visit the animals for adoption ANY DAY -- IMHS is open daily for adoptions!
Marta Anderson
Shelter Director
LIKE us on Facebook!
_________________
Adoption Center Location: 67318 Hwy 285, Pine, CO 80470
(not for postal use)
Map
Mailing Address: P.O. Box 1250, Conifer, CO 80433
Open to the Public *NEW HOURS effective Tues 11/22*
Open 7 days/week 11am to 4pm | Open til 7pm Weds
(Closed on major holidays)
Phone (303) 838-2668
Fax (303) 838-4419
IMHS Website
Find Us On Facebook
Our Blog
IMHS Second Chance Thrift Shop
Visit our 285Bound.com Forum
Here
!
See the view from our Second Chance Thrift Shop on our 285Bound Webcam!