Hi All!
If anyone has knowledge of how to do a paint job on our floors and is willing to donate the service, or knows of a painter or company who would offer this service to IMHS pro-bono or at a deep discount, please let us know!
Our kennel floors (2 smallish rooms in the shelter) have giant exposed concrete patches where the paint has peeled away over time, and they desperately need to be re-painted! IMHS already has the paint on-hand, we just need someone to get the job done for us!
Here's what the kennel floors look like: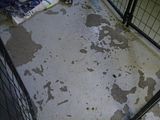 If anyone can help out, we'd love to make arrangements to shuffle the dogs out of the kennels by 6.30am and keep them out for 24 hours, so the job can get done and dry within a full day's time. We are flexible as to when-- just let us know what works best for you! CALL US at 303-838-2668 if you can help, and thanks for spreading the word about the shelter's needs!
Marta Anderson
Shelter Director
What are you waiting for? LIKE us on Facebook!
_________________
Adoption Center Location: 67318 Hwy 285, Pine, CO 80470
(not for postal use)
Map
Mailing Address: P.O. Box 1250, Conifer, CO 80433
Open to the Public *NEW HOURS effective Tues 11/22*
Open 7 days/week 11am to 4pm | Open til 7pm Weds
(Closed on major holidays)
Phone (303) 838-2668
Fax (303) 838-4419
IMHS Website
Find Us On Facebook
Our Blog
IMHS Second Chance Thrift Shop
Visit our 285Bound.com Forum
Here
!
See the view from our Second Chance Thrift Shop on our 285Bound Webcam!