W are on track to beat our May adoption totals with 42 adoptions so far. What could be better than loving animals finding new homes??
Many thanks to all the kind folks who called to see if we needed any assistance with fire related needs. We have been fortunate to be safe and send out good thoughts to those who have been affected by the recent fires. We are here to help!
Our wish list for the week is as follows--
High quality dry dog food- sensitive stomach if possible. We are trying to ease our new dog arrivals with a low stress introduction.
Canned dog food- chunky with gravy is great.
Cardboard scratching trays (smaller sized) for the kitties. This helps with their natural scratching instincts and keeps them active.
13 and 30 Gallon garbage bags.
Folding card table style chairs to use at offsite events. We only need a few (3-4) more.
This weeks picture is a repeat....and why these guys are still here is anybody's guess-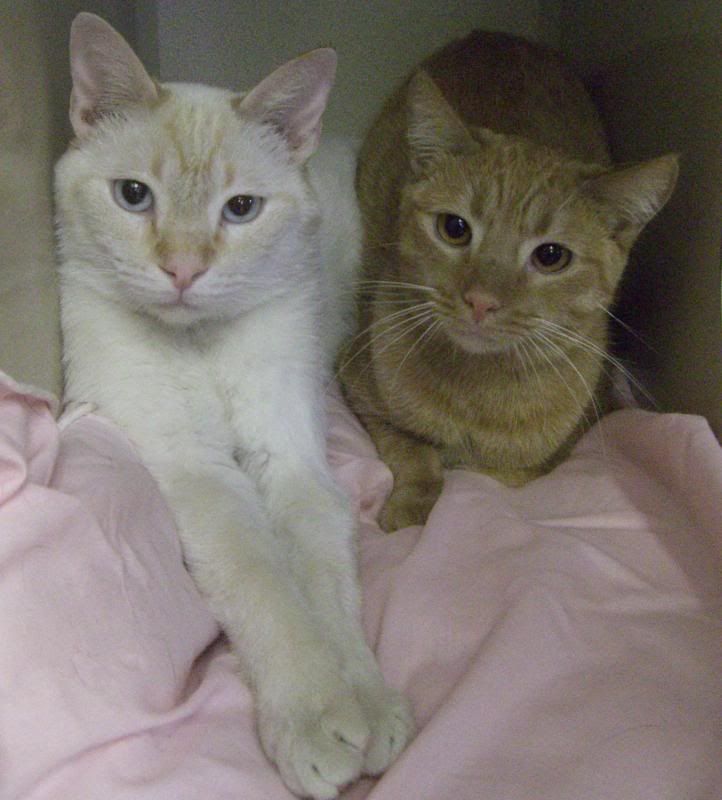 Now seriously...don't these guys just melt your heart?? This bonded pair of 2 year old brothers are still waiting for that special someone to come and adopt them. Yes, they play a lot and take comfy long naps, but it would be SO much better if they could play and sleep at YOUR house.
Why wait? Come down and visit Elliot and Gideon today! We are open 7 days a week so there are NO excuses.
Stop by soon and meet the new
of your life!
Susan Morrison
Shelter Supervisor
_________________
Adoption Center Location: 67318 Hwy 285, Pine, CO 80470
(not for postal use)
Map
Mailing Address: P.O. Box 1250, Conifer, CO 80433
Open to the Public *NEW HOURS effective Tues 11/22*
Open 7 days/week 11am to 4pm | Open til 7pm Weds
(Closed on major holidays)
Phone (303) 838-2668
Fax (303) 838-4419
IMHS Website
Find Us On Facebook
Our Blog
IMHS Second Chance Thrift Shop
Visit our 285Bound.com Forum
Here
!
See the view from our Second Chance Thrift Shop on our 285Bound Webcam!