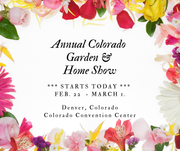 ANNUAL GARDEN & HOME SHOW - IN DENVER, CO:
***LOCATION: CONVENTION CENTER DOWNTOWN DENVER- STARTS TODAY: 2/22/20.
"Discover the Rocky Mountain region's oldest, largest and most prestigious garden and home show - a nine-day spectacular event at the Colorado Convention Center - where you can find inspiration from the latest ideas and trends in landscaping, gardening and home improvement. Enjoy the multitude of fragrances as you stroll through more than an acre of professionally landscaped gardens - 11 in all. Talk to representatives from more than 650 companies from 25 states and Canada. Visit with the region's gardening gurus and home improvement experts about the best ways to move your home and garden projects forward."
Website:
http://coloradogardenfoundation.org/col ... -home-show
_________________
Kathryn L. Carlson, CRS -Broker/Owner
Homes & Lifestyles of Colorado
Real Estate Brokerage Company
____________________________
YOUR HOME TEAM
O: (303) 816-9199 C: (720) 226-8199
Your Home Info:
http://www.KathrynCarlsonHomes.com
-SELLING – BUYING – STAGING – SHOWING – NEGOTIATING- CLOSING!
~ Awarded Multiple (6) Years by 5280 Denver Magazine
~ 20+Years' Experience in Real Estate
285 CORRIDOR SELLING DISCOUNT: 3.9% Total, Not 7%.